The rare summer rains of 2011 in Mendoza were not favorable to our Sauvignon Blanc grape which grows best in the dry dessert of Mendoza. Eugenio and I were worried, quite worried. Some would say by coincidence or maybe divine providence, Eugenio reconnected a friendship from his youth with Rodolfo Zorich, a Chilean whom Eugenio had met eons ago during his youth during annual family vacations on the Chilean coast.
Roldofo knows his way around Chilean wines and the country's amazing terroir, filled with verdant valleys and peaks. Through him we were fortunate enough to connect with some absolutely gorgeous vineyards making spectacular wines.
The first was in Chile's lush Casablanca Valley. Just 22 miles from a sea, this fertile valley known for its cool morning fog and frequent ground cover is a cool microclimate ideal for Sauvignon Blanc. But would we love the Sauvignon Blanc from Chile as much as the original from our vineyard in Argentina? It took one taste. And thus the 2011 Famiglia Meschini Sauvignon Blanc was born. Adopted from Chile, but loved the same as our own – from its peachy nose with fresh herbs and citrus to its crisp long finish. We were dazzled and think you will be too.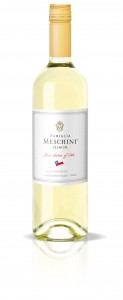 And, as one more addition to our family was not enough…. (we like big families)
We are now producing Pinot Noir! Hailing from the Casablanca Valley of Chile, it has enticing aromas of black cherry and a seductive full-flavored, round mouth. This Pinot won us over hands down. We joined forces with another Chilean winery to produce this beauty and are excited to bring you this new wine.
Next, we were led to the Colchagua Valley where we were smitten, and who can blame us. Here we found the perfect Carmenere grapes that produced an earthy, cocoa nose. We blended it with a touch of Cabernet Sauvignon to create a smooth finish that will have you reaching for another glass. It has a brilliant crimson color, one that will soon match the beautiful fall leaves here in Minnesota that will be moving us into a chillier season. (We try not to think of it as winter here at Meschinis!)

Simply put, there is always enough love to go around – Eugenio and I fell so in love with these wines that we had to call them our own. Help us welcome the newest members of the Famiglia. Give them a try and drop us your thoughts – Teresa@FamigliaMeschini.com
From our family to yours – Salut!